Legendary service and personalized attention
We all share a love for high quality brands, where products are made, and the enthusiastic passion craftsmen and designers put behind their work. The Mercantile is an easygoing retail experience, with an upscale style, giving you hometown and farmhouse comfort.
We started with the simple idea of bringing the best of home-made and handcrafted from local artisans to you. From our owners to our front-line associates, we put lots of love and careful thought into all we do.
Offering everything you need to take pride in the place you call home; wherever that may be. A Prideful Place
Christian Fessler - Owner

Christopher Batts - Owner

Hey there! My name's Christian, and I am co-owner of A Prideful Place LLC with my husband Christopher. I have 10 years of experience working with operations, digital media, and logistics. On the off chance that I don't have a solution, trust and believe that I'll figure it out. I'm an admirer of innovation, and Christopher is the intricate designer.

Phone: 984-295-8511 ext.2003

Email: christian@apridefulplace.com

Hello! My name is Chris, and I am a nationally certified wedding planner and have been since I was 18! My love of small business, minority owned business and small industry is strong and continues to grow everyday as I learn new things and interact with people from various backgrounds.

Phone: 984-295-8511 ext.2004

Email: chris@apridefulplace.com
Jenn Pacilio - General Manager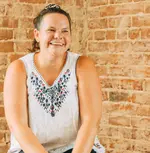 Phone: 984-295-8511 ext.2005
Email: jenn@apridefulplace.com